Cyber Monday Sale is Here: Up to 60% OFF!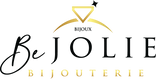 Bijoux Be Jolie
Be Jolie is a unique jewelery boutique  that offers engraving and repairs on site.
You can also find an online store for easy purchase of the latest in luxury jewelry.
Our real jeweler will give you a shopping experience to share with your friends.
Whether you need a new ring, wedding bands, or promotional items for your business, we have everything you need right here at our store.
We also offer a wide range of gift items, from pens to glassware, and even medical bracelets.
Whatever the occasion may be, Creations Be Jolie has the perfect item to make it special.